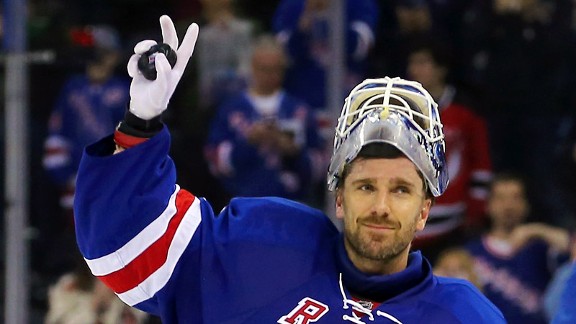 I know everyone has been waiting a whole year for me to answer questions from myself again, so here it is...
First things first…thoughts on the lockout? 
There's nothing much I'm going to say that others already haven't about the back and forth during the lockout.  However, for the record, I will say that the NHL once again embarrassed themselves and diminished the integrity of the sport.  I will also say that Gary Bettman continues his reign as the tiniest, most miserable, absolute worst commissioner in the history of sports.  I know that's like saying the sky is blue or that Crosby still wears pampers - but it needs to be said.
How about the Rangers' regular season?  If you had to sum it up in a word…
Disappointing.  The Rangers made a huge addition to their roster/offense by getting probably the best power forward in the league, Rick Nash because they couldn't score if their lives depended on it last season/playoffs (and kinda did for some of them…lookin at you Dubi). However, Nash's presence didn't seem to do too much because their over passing, lack of shooting, lack of hitting that little thing called the net consistently, and once again HORRENDOUS power play was as prevalent as ever this season.  The Rangers defense I think was solid for the most part and although Lundqvist had a rare shaky start, he finished the season strong once again.  Because he's awesome.
So what do you think their problem is?
Honestly, I have no effing clue.  But if I had to guess, it would probably have something to do with the fact that they pass 3898743208 times before they take one shot or that they turnover the puck too many times or that they don't get guys in front of the net as much as they should.  Who would have thought you can't score goals playing behind the net. Crazy, I know.
I really wish I knew how to fix that because it would have saved the life of my remote (which may or may not have accidentally…or purposely…. been tossed across the room in frustration and broke). A first line that consisted of Nash, Richards and the dearly departed Gaborik and a supporting offensive cast of Hagelin, Stepan, Callahan had absolutely no excuse not to score.  Lots of talent there so you must score. End of story. 
So if offense seemed to be the main problem this year, have we stopped hating Del Zotto?
Definitely not.  I was getting to him. I want someone to explain to why in God's name do they let him run point on the power play over and over and over again.  He's the Mark Sanchez of the New York Rangers – turnovers galore, bad decision making, bad passing, sometimes doesn't even come close to hitting his mark (you know, the net) when shooting……
While I do think you could have a worse defenseman then him, he's most certainly not ideal…or even good.  In fact, sometimes he flat out sucks.  I dare anyone to defend him being the quarterback of the power play. Next question please, he makes me hostile.
Ok, ok, no more Del Zotto talk.  Favorite moment of this season?
Hmm, I think my favorite part of this season was….oh wait, I don't have one because the NHL ruined it with their lockout bullshit.  Neeext…
Come on, you must have one.
Fine. If I have to pick one was being back in the Garden for the first time after 8 months.  I missed my home.
Also…this.  #seasonsover ... click here ---> Memo.mp3
Most annoying event/moment/part of the season?
A lot of things annoyed me this sesason, like the fact that we didn't have half of it, but this is an easy one. The never-ending conversation on yet another Crosby injury is at the top of the list. His jaw injury was certainly serious, but listening to people debate… and speculate… and analyze… and worry about if he's resting or skating or sneezing today… is like slow torture because you know he's gonna be back.  YOU KNOW IT. 
Playoff predictions. Go.
I'm not sure when or how, but I think the Penguins will make a surprising exit in an early-ish round.  I think Bruins are making it to the eastern conference finals.  I think the Rangers and Capitals will once again go seven games, giving me 300 mild heart attacks in the process.  I think the Blackhawks will make it to the cup finals from the West.  And I think I really couldn't tell you who will make it from the East but whoever it is, is winning the Stanley Cup this year.
LET'S GO RANGERS.